The Record Break bringing you the best of vinyl and coffee since 2014.
This rare and wonderful record café was established in Ennis, west Ireland. It stemmed during the time of mainstream music downloading and acted as a venture to return the high quality of sound, that only the vinyl record contains.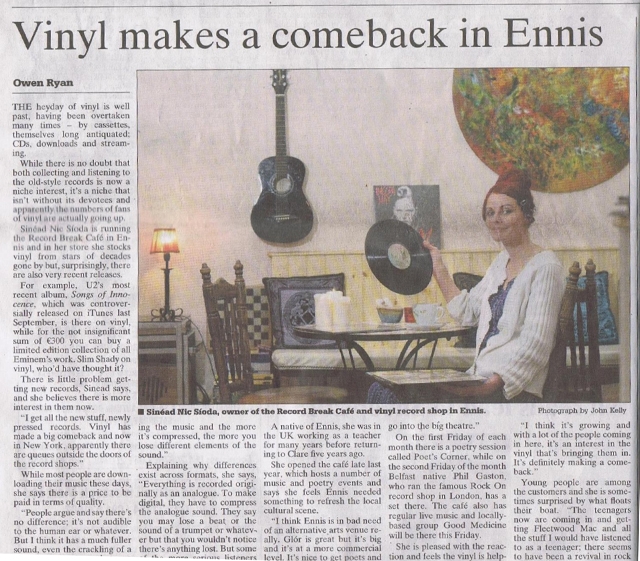 Coffee culture was already a very big part of the town community on my return from the UK Sinead says, and so, combining the two cultures added immense colour and dynamics to the café. It consists of elements of bohemia but is also quite chic.  As it is different in the generic sense, it works within Ennis beautifully.  It has been a pleasure to receive so many messages from people all over the country and indeed internationally regarding the RB venue.    
OPENING HOURS
MONDAY: CLOSED
TUESDAY: 11:00 AM – 4:30 PM
WEDNESDAY: 11:00 AM – 4:30 PM
THURSDAY:  11:00 AM – 4:30 PM
FRIDAY: 11:00 AM – 4:30 PM
SATURDAY: 11:00 AM – 4:30 PM
SUNDAY: CLOSED
A music café nestled in an alcove at the back of Parnell Street, (old Mill Street) hides like a hidden gem, yet has been uncovered by the many musicians who have performed there, as well as the poets who have launched their newest books, with the most appreciative of audiences. The high ceilings offer excellent acoustics and there is a lovely, one of it's kind, home from home atmosphere, to be found at The Record Break Café.